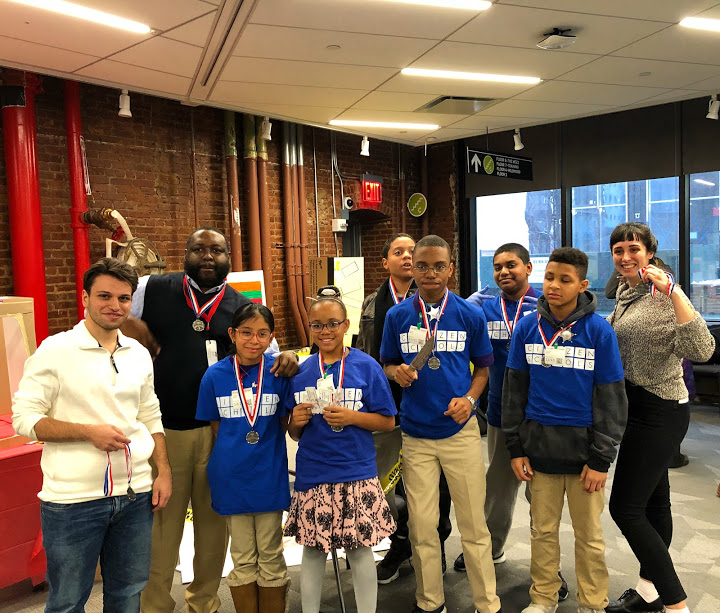 Here at Citizen Schools, December is when our students get to showcase what they have learned in their 10-week apprenticeships, while their volunteer Citizen Teachers get to say WOW! At our semi-annual Google MegaWOW!, 75 students across our four schools were able to showcase their final products to more than 20 Citizen Teachers, 30 staff members, 25 guest and other special guests.
The Google MegaWOW featured the following apprenticeship teams: Talk Like a Pro, Crime Scene Investigation, Girls in Charge, Design Thinking, Lego Robotics, and Pencil Code. Students in the Girls in Charge apprenticeship created a self defense video and designed a product to keep women safe. Lego Robotics created a robot that synchronized with music in order to move, making for fun robot dancing. Students from the Like a Pro apprenticeship delivered speeches persuading Googlers on the value of volunteering with Citizen Schools. It was a high energy event all around!
After the Google MegaWOW!, we continued to celebrate our students with a week's worth of community WOW!s at each of our four schools. We were excited to see such an incredible turnout from our school communities at every campus WOW! Each campus had fun reflecting their own personality, with themes such as Global Tech Prep's Wizard of WOW!, where all of our Citizen Schools Teaching Fellows dressed up as characters from that iconic movie. Students at the Urban Assembly Unison School held a HollyWOW!, where guest became stars as they entered the auditorium, surrounded by student "paparazzi" taking photos on the mock red carpet.
Citizen Schools Teaching Fellow Kai Smith shared: "My favorite part of the WOW! was definitely seeing the turnout with so many guests and families in attendance and with so much anticipation on what was to come. The best moment, for me, was receiving a thank you note/Christmas card from one of my more timid students the day before break. It detailed how much she learned from the Girls in Charge apprenticeship, how proud her parents were of her and her hard work, and that because of it, she might even get a computer for Christmas! I'm happy to know that in small ways, we each could make a difference."